CLEOPE features
Registered users' hardware default features are:
| | | |
| --- | --- | --- |
| Disk | RAM | CPU |
| 20 GB | 2 GB | 2 |
Please note that the CLEOPE free account has a limited amount of resources available, thus some notebooks potentialities may be prevented.
Disk limit – when the threshold is exceeded an error message is printed out on screen, by both:
cp:error writing 'file': Disk quota exceeded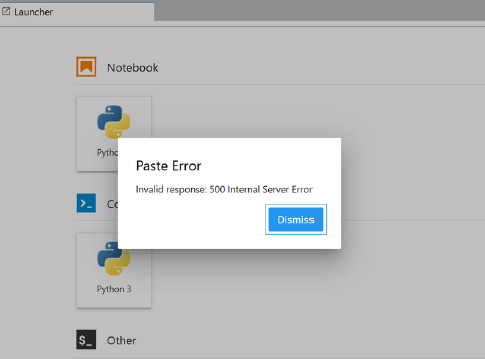 RAM limit – If users use more than the allowed amount of RAM, their Notebook kernel will restart and a pop-up message is displayed:
No other actions are allowed on the Notebook in this case. Please note that shutting down the unused Notebooks is supplemental to helping with memory errors.
CPU limit specifies the total CPU cores that each user can use within CLEOPE workspace. If the CPU limit is exceeded, computations may become very slow.