Create My Wallet
Create My Wallet
To create a Wallet, click My Wallet:
either from the button on the ONDA User Portal Home page
or from the link under the Wallet menu on the top right-hand corner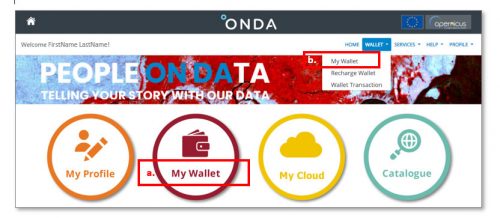 Info
Review the Info page, then click the Next button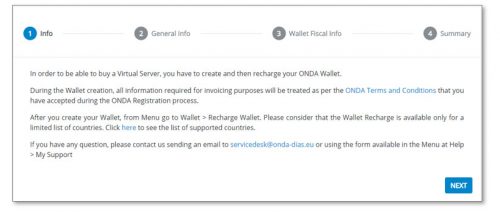 General Info
a. Fill in the mandatory information as follows:
Country – select your country from the drop-down list
Fiscal Category – select your fiscal category amongst the available ones in the drop-down list:

Private User
Company
Public Administration
Agency
Non-profit

b. Select the VAT Exempt checkbox if applicable (for Italian companies only at the moment) and provide the required mandatory information:
VAT Exemption Regulation – select as appropriate from the drop-down list
VAT Exemption Documentation – upload any available document (up to a maximum of 5 documents) certifying your VAT exemption eligibility according to the selected law article.
NOTE: users selecting the VAT exempt option will have to wait for approval of the documentation to be able to recharge the wallet. All relevant details and confirmation will be communicated by email.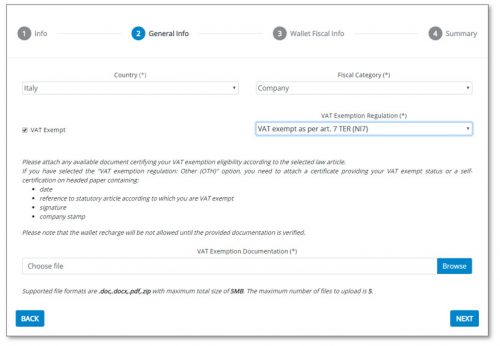 Wallet Fiscal Info

Fill in the mandatory fields, which vary according to the Fiscal Category selected in the General Info page
Company name – Company, Public Administration, Agency, Non-profit
Firstname – Private User
Lastname – Private User
Address
Province
City
Postal Code
Fiscal Code – not mandatory for Company, Public Administration, Non-profit
Telephone Number
VAT number – Company, Public Administration; not mandatory for Agency, Non-profit
Public Entity Code For Invoicing – Public Administration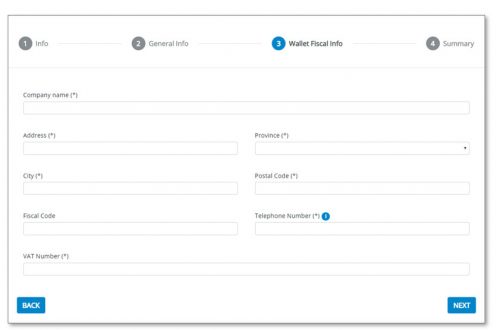 Summary

Review the information and if needed click the Back button to edit any of the fields.
Once created, the Wallet information cannot be changed by the user. For any required change, users should Contact Us.
A pop-up window comes up to tor confirm the creation of the Wallet: click the OK button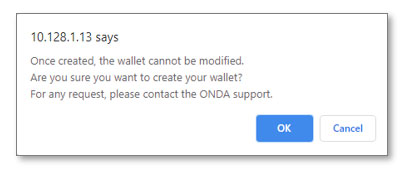 A Wallet creation succeeded pop-up window confirms the successful creation of the wallet, and the My Wallet page is automatically displayed.