Results of project developed by CNR-IREA using the ONDA platform published on renowned journal
diaswpadmin
A public paper on the surface deformation analysis project developed by CNR-IREA – the Institute for Electromagnetic Sensing of the Environment (IREA) of the National Research Council (CNR) of Italy – has been published on the peer-reviewed open access journal Remote Sensing.
The article presents an advanced processing pipeline for the generation of continental scale differential synthetic aperture radar (DInSAR) deformation time series.
The solution is based on the parallel small baseline subset (P-SBAS) approach and on the joint exploitation of Sentinel-1 interferometric wide swath (IWS) SAR data, continuous global navigation satellite system (GNSS) position time-series, and Cloud computing resources.
In particular, the paper authors successfully demonstrate that the ONDA Cloud resources – which were selected through a public tender – are specifically suitable to host the fully automated pipeline for downloading and processing the analysed Sentinel-1 images, and for storing the final Sentinel-1 interferometric products.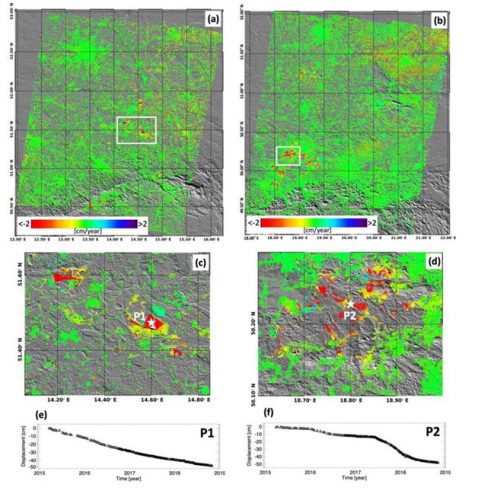 Zoomed-in views of the mean deformation velocity map relevant to two wide areas located in Germany (a) and Poland (b), both affected by extensive mining activities.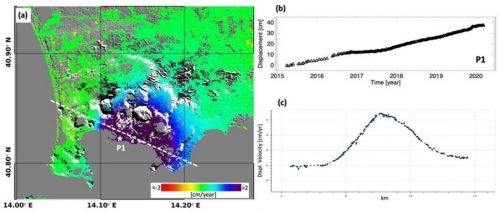 Zoomed-in view of the mean deformation velocity map relevant to the Campi Flegrei caldera (Italy).