Products information
If you move the cursor over any of the products in the list, some additional buttons are available.

Details
By clicking this button, you can access further details on the selected product on a new page.
Click the Close red bar at the bottom to exit the Details page.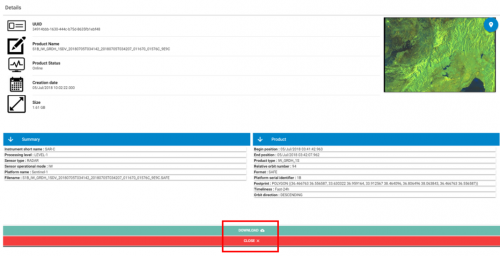 Layer
By clicking this button, the layer of the product is shown on the map.
Click the Remove Layers red button at the bottom to exit the Layers details.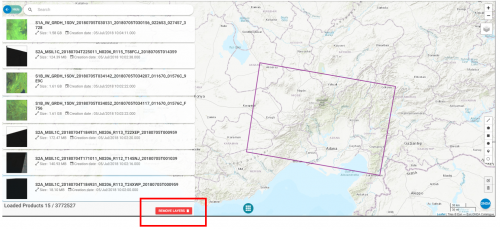 Download
By clicking this button, you can Download the productin zip format.Since the Download service is for users already registered with ONDA, you will be asked for your ONDA User Portal Username and Password to launch the product download. If you are not registered with the ONDA User Portal, click the Login/Register link on the top header of the ONDA Web Portal and follow the registration process. It is to be noted that some of the products available in the ONDA Catalogue are stored in our ONDA Archive service. Those products are visible in the ONDA Catalogue and are accessible by all users through the ONDA Catalogue and the OData API, but with a different latency.To download an archived ONDA product from the Catalogue, a user must first order it. This can be done by clicking on the "Order this product" button in the Details page, which replaces the download button.
Once ordered, an indication of when the product restore will be completed is displayed.Data recovery time is 10 minutes, and once restored the products will be available to all users for immediate download. The selected products will then remain available for fast access for 24 hours after the user request.